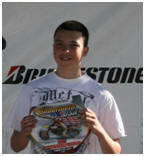 Racing Background: I race at both the local and National levels. I began racing motocross at the age of four and won several championships along the way. In 2008 I switched to supermoto taking 3rd place in the 2010 Supermoto USA championship.
Next Seasons Goals: To finish in the top five in the 250 pro class points, in addition to finishing on the podium in a AMA pro am event.
Born:
11/11/1997

Reside:
Antioch, CA
Education: Middle School
Skill Level: Intermediate
Class: 250
Height: 5'9"
Weight: 120
My Bikes: 2005 CRF 250R
First Started: 2001
Personal: I am currently 14 years old, and a 8th grade student at Delta Vista
middle school. I average a 3.0 GPA which is a must for my racing career.
Bad grades = No Racing!
I enjoy many sports, but racing is my favorite. I am a good sport, win or lose I always make my way around the pits to congratulate my fellow racers. I have made many friends at the track and enjoy helping first time racers by giving tips. I also compete in wrestling and enjoy playing basketball.

Plans for the Future:
To win an AMA supermoto championship and to also stand on the podium in the AMA superbike championship. To compete and win as many motorcycle competitions as possible while always promoting my sponsor's products, to one day become a professional racer.
How will I add value to your company: I can provide your company with excellent advertising opportunities, while on or off the track. Some things you can expect from me are,
- Display your merchandise, and logos on my bikes, tent & trailer.
- Local and National media coverage of events.
- Newspaper write ups and mentions.
- Appearances at events, fundraisers, and grand openings, etc
Highlights
2011 400 Amateur - 2 first place finishes
2011 - 85/150cc Supermoto USA 3rd place
2010 - 85/150cc Supermoto USA Class Champion
2010 - 85/150cc Supermoto USA 1st Place
2010 - 85/150cc Supermoto USA 2nd Place
2008 – 85cc King of Sand Hill, Flat Track
2008 – 65cc King of Sand Hill, Flat Track
2007 – 100cc King of Sand Hill, Flat Track
2005 – 50cc 6-9 Year Olds, Class Champion
2004 – 50cc Gold Cup Series Champion